​LAKE FOREST — Dating back to one year ago Friday night and the first round of the 2017 NFL draft, Chicago Bears GM Ryan Pace, who in his fourth season is still the youngest GM in the NFL, has created more excitement around his football team than the city of Chicago has seen from it since the Bears played the Green Bay Packers in the 2010 NFC title game.

It started that evening when he traded the third pick in the draft, his third-round picks last year and this year and his fourth-round pick last year to draft QB Mitchell Trubisky.

It continued New Years Day this year when he decided to replace head coach John Fox and ultra aggressively out-hustled five other teams to hire one of the hottest young head-coaching prospects in the league in Matt Nagy, and then assembled an all-star coaching staff including Vic Fangio, Ed Donatell, Mark Helfrich, Brad Childress and Harry Hiestand.

With a huge splash in free agency that included signing WRs Allen Robinson and Taylor Gabriel, TE Trey Burton and retaining his own star CBs Kyle Fuller and Prince Amukamara, he put an exclamation point on his commitment to building an explosive and dynamic Bears offense for the first time in decades and maintaining a top-10 defense.

Now in the last 24 hours, he's added three more outstanding college football players in ILB Roquan Smith, C James Daniels and WR Anthony Miller, setting the local Twitterverse on fire.

Pace is on a roll, and those are things we know.

What we think we know is Trubisky showed enough in 12 starts as a rookie to suggest the Bears have finally found a franchise quarterback for the first time since 1985.

I believe Smith, along with Bradley Chubb and Minkah Fitzpatrick, is one of the three best defensive players in this draft and the Bears got him at eight. Daniels was the best center in this draft, although Pace says the Bears will start him out at left guard, and almost no receivers in this draft have had more buzz around them than Miller.

It is all really exciting, but let's go back for a few minutes to what we actually know.

From Pace's first three drafts, only Eddie Goldman, Adrian Amos, Pro Bowler Jordan Howard, Leonard Floyd, All-rookie C Cody Whitehair, a projected starter this year in Jonathan Bullard, Trubisky, Eddie Jackson, Tarik Cohen and maybe, maybe Adam Shaheen appear to have a chance to be part of the nucleus of a contending Bears team.

Free agency has been even tougher for Pace. On the current roster only Bobby Massie, Benny Cunningham, Dion Sims, Akiem Hicks, Danny Trevathan, Amukamara and this year's three receivers are likely to be important contributors.

So based on what we actually know, how close are the Bears to actually being legitimate contenders again?

I believe Trubisky, Howard, Cohen, Long, Whitehair, Shaheen, Hicks, Goldman, Trevathan, Floyd, Fuller, Jackson, Robinson, Gabriel and Burton will all be better players this year — and some will be very good because of Nagy and this coaching staff.

I am really excited about Smith, Daniels and Miller, who I think can all be excellent pros and appear to be even better young men, and I think the Bears will be a much improved football team this year that will win eight or nine games.

But I know that they still won't be close to the talent of the NFL's best teams and they will now enter next year's construction handcuffed with the absence of a second-round pick.

I continue to be a Ryan Pace fan, but he's celebrating Nagy's honeymoon right now, his is over, and I fear I know the quality of this roster is not equal to the excitement and buzz surrounding it.

The question now is can it catch up in time for this current regime to get to celebrate it?

Visit ProFootballWeekly.com

|

View Latest E-Edition

This article originally ran on

profootballweekly.com

.
Powered by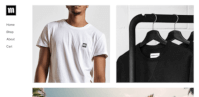 Create your own unique website with customizable templates.